As we demonstrated at ExhibitorLIVE 2016, great flooring has set the stage for history. Read some case studies and testimonials from satisfied Brumark customers to learn why!
Cleopatra Creates the Perfect Look with Perfect Plank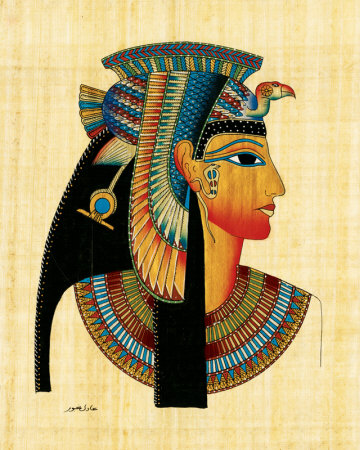 In 48 B.C. Cleopatra knew she wanted to remodel her personal chamber, but the normally decisive ruler couldn't find flooring that appealed to her. She turned to Brumark, and we quickly suggested Perfect Plank luxury vinyl flooring.
Perfect Plank comes in upscale wood and stone styles fit for royalty. And because it can be cut to size with a utility knife and just set into place without the use of tools or adhesive, we knew the fast, simple installation would appeal to the busy queen. Plus, with its simple maintenance and durable 0.5 mm wear layer, Perfect Plank can withstand the harsh Egyptian sands.
"Perfect Plank is gorgeous and it was the perfect choice for my luxurious chamber," Cleopatra noted. "I had a hard time deciding between the beautiful wood and stone styles, but because it's so easy to reconfigure and reuse, I can have my servants update the floor every month if I choose. My snake loves it, too."
This is a fictional case study, but the details about Perfect Plank are real. Photo by Eslam17
Shakespeare Sets the Stage with Elevate Raised Flooring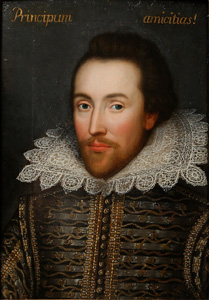 The Globe Theatre was built near the Thames River on marshy gardens that were prone to flooding. The planks that were to be used to build the Globe Theatre were lost to the river during transport. So in 1599, Shakespeare turned to Brumark with his problem. We turned to the Elevate Raised Flooring System for a solution.
The Brumark team selected Elevate because this plastic tile system is durable and easy to use. Elevate can be adjusted from 3.6" to over 6" high and levels from the top, allowing The Bard to quickly and easily create a durable stage. And it holds over 4 tons per square meter, making it perfect for any play.
We finished the stage with Easy Click luxury vinyl tile flooring, which looks and feels like hardwood flooring. Easy Click has a unique 360-degree locking system that makes installation fast and easy, so Shakespeare could quickly and easily update the flooring to set a scene. It's also low maintenance and wear- and water-resistant, a great choice for a busy theater near a marshy area.
"All the world's a stage, and all the men and women merely players, but Brumark's Elevate Raised Flooring System saved the day with a convenient and durable solution," said Shakespeare. "Just don't tell Ben Johnson about it."
This is a fictional case study. The facts about Elevate and Easy Click are true. Part of the Shakespeare quote is his own.


Sccoby

-Doo and Pals Update the Mystery Machine with 10' NexGen
Back in 1975, the carpet in The Mystery Machine had seen too many adventures – and spilled sodas and Sccoby snacks. So Scooby-Doo, Shaggy, Fred, Daphne and Velma asked Brumark to recommend a replacement.
We suggested 10' NexGen carpet as a durable and comfortable option at a great value. 10' NexGen is available in 16 oz. and 28 oz. face weights, so the gang could select the comfort level they wanted. It's also solution dyed for vibrant, fade-resistant color. And with 13 beautiful colors, we knew there was an option to fit any decor – even a psychedelic van.

After selecting their favorite color (Blue Sea) the gang was back on the road, driving around to unmask ghosts and solve mysteries. "We travel all around the country in the van, so we needed something durable and fade-resistant," Fred noted. "But Daphne and Velma insisted that it had to be attractive, too, so 10' NexGen really fit the bill."
"Yeah, Brumark's 10' NexGen carpet is far out!" Shaggy added.
This is a fictional case study, but the product details are accurate and no mystery. Photo by The Community – Pop Culture Geek
Custom Carpet Inlay Used to Create a Football Theme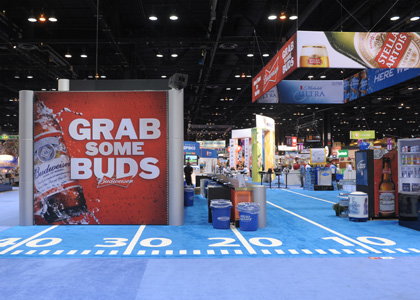 A client needed a themed flooring design to promote Bud Light and the NFL at the National Restaurant Show.

The exhibit space was large and they wanted an attention-grabbing flooring solution that tied the whole space together.
We used multiple colors of our high-quality carpet to create memorable themed flooring designed with a football field and the brand logo.
The custom carpet inlay measured 50' x 60' feet, proving once again that no project is too big or too small — or too complex — for Brumark!
Optimus Prime Finds Strength in Titan Raised Flooring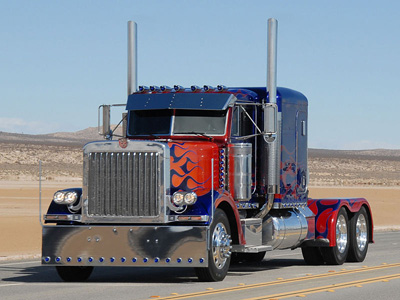 In 2010, Optimus Prime came to Brumark with a sizable challenge: he needed flooring that would support his weight but also could be transported quickly as he fought for honor and justice.
Brumark had a solution: the Titan Raised Floor, which is engineered to hold heavy loads but is a convenient option for a wide variety of uses.
Titan can be adjusted between 3.6" to 6" high. In addition to being able to support Optimus Prime's weight, Titan has the advantage of being easy to transport, set up, and dismantle. It packs self-contained on a pallet and because one tile and one foot are the only parts, it's extremely fast to install and take down.
We wanted to provide Optimus Prime with a flooring solution that would store easily on his trailer, not hinder his speed, and give him an elevated position over his enemies. Titan Raised Floor does all of this.
"Like the Transformers, there's more to Titan than meets the eye," said Optimus Prime. "Sometimes even the wisest of man and machine can be in error… but not Brumark! With Titan I can 'transform and roll out!'"
Optimus Prime used Titan Raised Floor whenever he was on the go until he left Earth.
This is a fictional case study. The details about Titan are accurate. The quotes are from the Optimus Prime character, modified to fit this case study.
Brumark Helps Support Superheroes at The Marvel Experience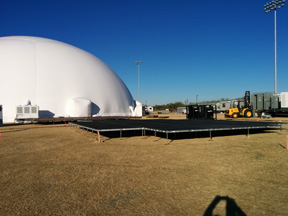 Visitors to the cutting-edge 2015 Marvel Experience Tour had a unique challenge: through advanced technology, they entered hyper-reality and joined superheroes like Spider-Man and Hulk on a quest to save the world from evil.
And as the official event flooring provider for this one-of-a-kind event, Brumark faced a fun and unique challenge, too: providing the flooring for the walkways and domes at an event covering three acres. As the Tour traveled from city to city, the flooring needed to be installed in just one day.
We rose to the challenge with our quick-deploy outdoor event flooring, which is:
Strong enough to support all the foot traffic, technology, and structures involved

Durable enough to withstand the demands of repeated installation and dismantle

Fast to install

Easy to transport
Brumark worked closely with Ignition and the team at Hero Ventures, the event producer, to ensure that each detail of the flooring project was successfully executed. The Brumark team provided continued onsite support as the Tour traveled around the country.