Take Raised Flooring and Branding to the Next Level with New Magnitude
Feb 11th 2016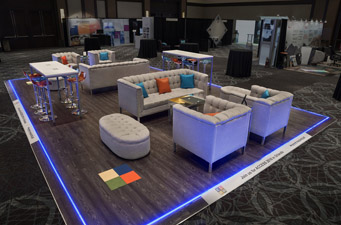 We're excited to introduce several new Total Flooring Solutions at ExhibitorLIVE 2016, and over the next few weeks we'll be sharing sneak peeks!
One of the game-changing flooring introductions that will be featured in Booth 1721 at ExhibitorLIVE is the MAGNITUDE RAISED FLOORING SYSTEM with LED Lit Edges.
This is the industry's only finished raised floor with an interchangeable surface and RGB LED perimeter!
This revolutionarily simple raised flooring system provides a fast, flexible, and easy way to create a beautiful raised floor with attention-grabbing lit transitions. Magnitude is:
Attractive and attention-grabbing – Customizable LED lit edges provide a unique, memorable way to brand an exhibit or event space and the LVT surface panels feature a beautiful finish
Flexible and cost-effective – Change or update the interchangeable finished surface panels or LED lights to quickly and easily create a new look without investing in a whole new flooring system
Safe – Bright LED lights highlight the raised edges of the floor for increased safety, reducing trips and falls
Easy to install – Simply set the magnetic surface panels into place on the durable, self-leveling subfloor
Fast to dismantle – Just peel up the magnetic surface panels and dismantle the roto-locking subfloor
Convenient – Raised floor provides utility management
Customizable – RGB LED lights with controller; select from two beautiful surface panel finishes or custom finishes, including printed flooring
Highly reusable – Durable surface panels and subfloor are designed for high-traffic areas and commercial use
Visit Brumark in Booth 1721 at ExhibitorLIVE to experience the many benefits of Magnitude first-hand! And while you're there, you can journey through history and see more flooring introductions that will take your exhibits and events into the future.
Learn more and schedule an appointment at WWW.BRUMARK.COM/EXHIBITOR2016