Rising to a Unique Flooring Challenge at The Marvel Experience
Jan 8th 2015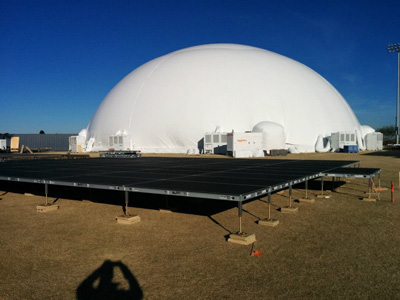 You may have heard about THE MARVEL EXPERIENCE, the hyper-reality traveling event that premiered in Arizona last month. This huge, interactive experience features cutting-edge technology, advanced computer animation, multi-person gaming, a 4-D motion ride, augmented reality, and more to make visitors feel like they are battling alongside their favorite Marvel superheroes to save the world.
As visitors join forces with The Hulk, Spider-Man, Thor, Captain America and other Marvel characters, they're standing, walking, and playing on Brumark event flooring. Brumark is the official event flooring provider for The Marvel Experience, a one-of-a-kind challenge we were excited to accept.
Our outdoor flooring is fast and simple to install and dismantle, easy to transport, and strong enough to withstand the daily foot traffic and other demands created by this huge event, which covers more than two acres! We've provided flooring for all the walkways and the four huge domes.
You can see pictures of the flooring installation and event on our FACEBOOK PAGE, and learn more about The Marvel Experience on the OFFICIAL WEBSITE. There are also some fun fan pictures on INSTAGRAM. We hope you'll follow along on Facebook and here on the blog as we share our perspective on this unique event. After the premier in Scottsdale, Arizona, the Experience is headed to Dallas from January 15 – February 31, and then to Del Mar, California. The tour is currently expected to travel to more than 14 U.S. cities over the next 12 months.