How to Use Tradeshow Flooring to Dress Up an Exhibit
Oct 2nd 2015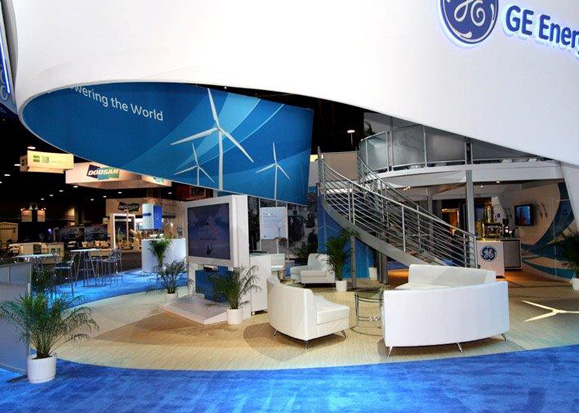 Great tradeshow flooring does more than just provide a finished look and comfortable surface. When used strategically, it can take an exhibit design to the next level.
And with all the tradeshow flooring options available today, there are many different ways you can do this. Here are some ideas for using tradeshow flooring to help create a memorable experience:
Carpet with comfortable padding –This is one of the oldest flooring tips, and with good reason: it's attractive and easy. Select a quality, high face weight carpet like our 50-oz. 10' ADVANTAGE PLUS in a complimentary or attention-grabbing color, then add REBOND PADDING to up the comfort level. Visitors will get a sense of quality and luxury as soon as they step into the booth.
FlexFloor rollable vinyl flooring in hardwood or stone styles – Our convenient FlexFloor is offered at a great value, and simply rolls out and back up for easy transport, installation and dismantle. Our EXOTIC HARDWOOD styles give you the look of traditional hardwood at one-third the cost, while the STONE WORKS collection offers realistic stone styles with natural beauty.
Raised flooring –Raised flooring sets an exhibit above the rest and provides a distinct, defined space. Brumark offers a large selection of RAISED FLOORING OPTIONS and we can help you select the best option for your application and design.
Printed flooring – Offering the ultimate in customization, printed flooring showcases a logo, marketing message, or design in vibrant colors. Choose from printed DYE SUB CARPET or rollable vinyl FLEXFLOOR CLEAR CHOICE.
Inlays, including with different types of flooring– Combining two or more flooring styles can add a distinctive, high-end look to an exhibit space. It also gives you many different creative ways to add color and texture. Options include combining carpet and FlexFloor, hardwood or printed flooring.
Centiva and Centiva on Snaplock tiles – Beautiful Centiva provides a unique, upscale look, and it's designed for high-traffic areas and indoor or outdoor use. Available in TILES OR PLANKS or on SNAPLOCK TILES for easy portability and quick installation.
Mirror-finish – Our HI-SHINE vinyl flooring gives you an eye-catching "wet" look that adds modern and sophisticated style.
Of course, when you work with Brumark you'll receive personalized service from our team of tradeshow flooring experts. We'll work with you to determine you requirements and help you select the perfect flooring for your specific design. Just contact us to get started!