How to Use Flooring Inlays to Raise Brand Awareness
Apr 8th 2016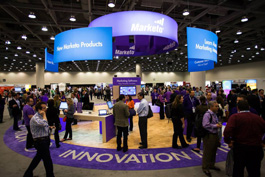 Flooring inlays are a great way to add visual interest to an exhibit, event, or other application. Brumark can help you turn your ideas and designs into attention-grabbing inlays that reinforce a theme or branding within a space.
We handle inlays of any complexity and in nearly any size, from 10' x 10' to over 150' x 150'. And inlay options aren't just limited to different colors of exhibit carpet. We can create inlays with FLEXFLOORrollable vinyl in exotic hardwood, stone, or metallic styles; printed flooring; hardwood; turf; recycled rubber; or a variety of specialty flooring options.
Here are some ways you can use inlays to boost brand awareness:
Highlight a logo at the entrance of a display or event, in front of the reception desk, or at strategic
points throughout the space
Repeat a brand name, logo or tagline in a border around the space
Showcase a brand or marketing message
Draw attention to a brand message on a wall, product displays, or other elements
Inlay CUSTOM-DYED CARPET to use brand colors in different sections of the space or to create a border or pathway
Convey a brand message at key areas, such as near meeting areas or in front of demonstration areas
A floor provides you with a large promotional space – and inlays can be a memorable and very effective way to emphasize and reinforce a brand. Please contact us to learn more about how we can turn your designs into eye-catching inlays!