How the EDPA Foundation Scholarship Has Benefited Shameka
Mar 24th 2015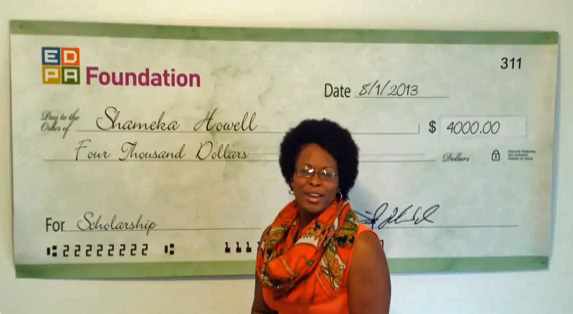 Shameka Howell, Client Services Manager at Brumark Total Flooring Solutions, was awarded an EDPA FOUNDATION scholarship in 2013. We are very proud of her and all that she has achieved!
In this VIDEO, Shameka talks about how the scholarship has benefited her studies and how easy it is to apply.
Shameka is working toward her Associates degree in Business Administration at Georgia Perimeter College. Since receiving the EDPA Foundation scholarship, she has been named to the Dean's list multiple times and been inducted into Alpha Beta Gamma, an international business honor society.
As Shameka EXPLAINS, it's simple for exhibit industry members and their family members to apply for the scholarship.
We hope you'll check out the video and encourage your family members to apply for a scholarship — or pass this info along to someone who may be interested. All of us at Brumark are extremely proud of Shameka, her hard work, and her accomplishments. Perhaps someone you know could also benefit!