Flooring Innovation, Aliens and Futuristic Fun at EXHIBITORLIVE 2017
Mar 23rd 2017
We're back from EXHIBITORLIVE in Las Vegas, and what a show! Every year is amazing, yet every year is even better than the one before.
At Brumark, we always strive to bring you the latest flooring innovation. To highlight that, we turned our exhibit into a futuristic Flooring Innovation Center.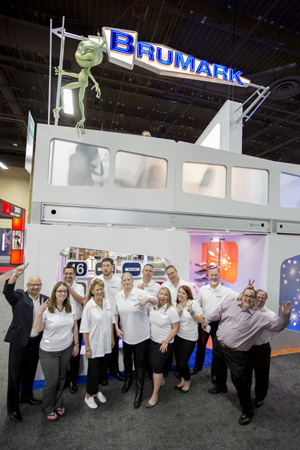 With expert custom fabrication and 3Dimensioneering by our sister company, ID3 Group, we created a sleek yet fun two-story exhibit that showcased Brumark's extensive flooring innovations. Attendees were greeted by aliens who had brought the future of flooring with them to Earth. The alien sculptures used throughout the exhibit were created by ID3 Group's Chisel3D division.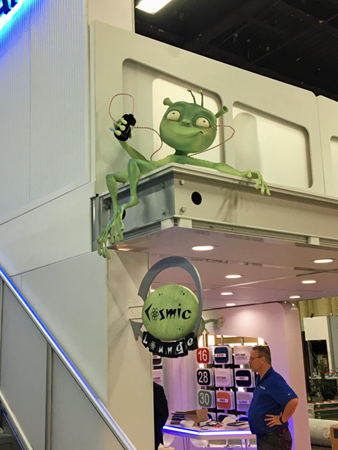 Panels along the front of the booth allowed visitors to experience Brumark's popular Advantage and NexGen 10 carpet featuring an innovative new yarn system. Colorful carpet inlays highlighted areas with samples of solutions for exhibits, events and auto within the exhibit space.
We were very excited to demonstrate the new Brumark Sensor Floor powered by Sencorables during the show, with a monitor panel displaying real-time metrics collected by unique, patented sensor technology. Visitors could see this innovative flooring solution in action as monitors displayed metrics on the presence, location, direction, movement and dwell time of people in both levels of the exhibit. This got a lot of great feedback as attendees considered all the ways they could use this new flooring innovation to gather metrics for tradeshows, events, museums, traveling exhibits and more.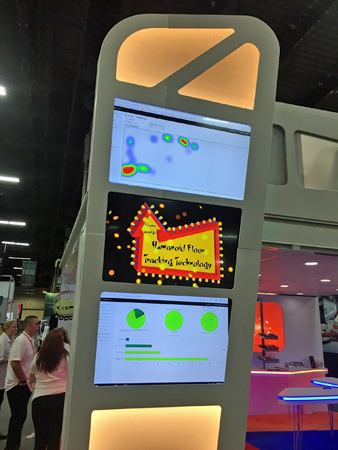 We enjoyed talking with everyone who stopped by to learn about our newest solutions, and we had great meetings with clients and prospects in the Cosmic Lounge on the upper deck of the exhibit. Highmark provided the deck, and we appreciate their incredible support and partnership.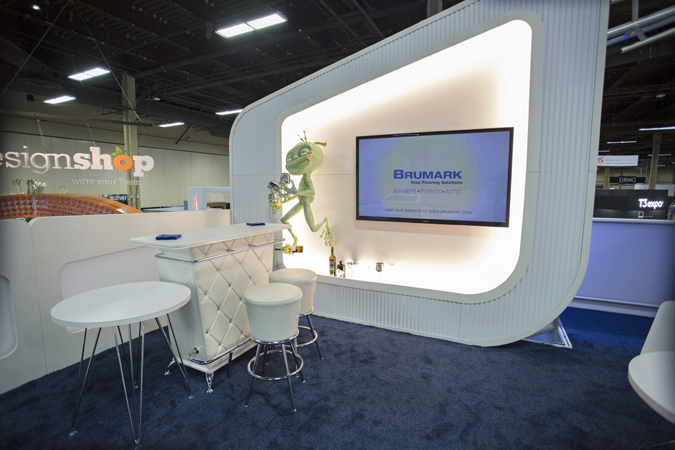 As always, we loved seeing all the ways our clients put Brumark flooring to use in their own exhibits. Congratulations to Skyline for winning the Best of Show Award! We are proud to have provided the flooring for this beautiful exhibit.
We also had the pleasure and fun of handing out three inaugural "BruEAwards." ExhibitTrader.com, Group Delphi and Featherlite Exhibits each received an alien sculpture to take back to the office as a token of our thanks for their support.
If you weren't at EXHIBITORLIVE this year or didn't get a chance to stop by the booth, we'd love to talk with you about how Brumark can make your exhibit, event and auto flooring projects a complete success. Please contact your Client Experience Manager to learn more.
Brumark always strives to bring you the latest flooring innovation, and we're excited about what lies ahead!