Another Great Exhibitor Show!
Mar 5th 2015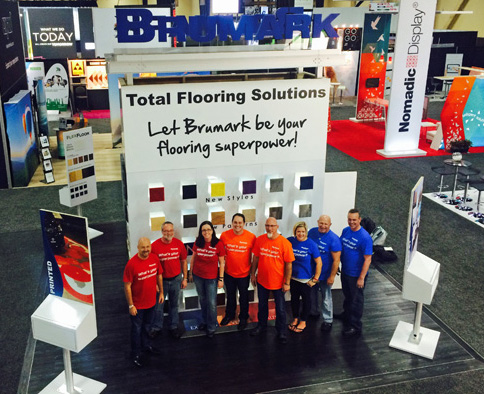 We're back from ExhibitorLIVE — and what a terrific show it was! The exhibit and event marketing industry is a very fun one, and there were a lot of new products, interactive elements, engagement ideas and more on display.
There was great energy on the show floor and we got a tremendously positive response to our new MAGNITUDE MAGNETIC RAISED FLOORING, which people could check out first-hand in the Brumark booth. This new product revolutionizes how you can use raised flooring.
If you came by the booth – thank you. We enjoyed talking with everyone and demonstrating how Brumark is your flooring superpower. If you weren't at the show or didn't get a chance to come by the booth, we'd love to talk with you about your exhibit, event and auto flooring needs and brainstorm some ideas and flooring solutions. Please CONTACT YOUR AREA ACCOUNT MANAGER to learn more. You can also view all our PRODUCTS on our new, updated website. If you're not already registered on our website, please REGISTER to view pricing, request quotes and easily order free flooring samples. Registration is fast and free.
Thanks for another great show!